Description
One-on-One Personalized Private Coaching
When you commit to upgrading your lifestyle through small yet powerful changes, rituals and habits you will see your health and life transform! As an expert in empowering clients to create subtle shifts and radical changes in outlook, lifestyle and daily habits, I will guide you step-by-step in upgrading your health and creating a life that will lead to abundance, acceptance and growth!
You will be inspired to live your purpose, turn fear into joy and live a life you love with grace and ease. As you shift your mindset, you will notice miraculous shifts in your thoughts, words, actions and energy. As we work together in your customized program, you will uncover what has been holding you back from truly having the vibrant, healthy, balanced body and life that you have always wanted!
Simple Pure Whole Breakthrough Discovery Session

Are you ready to feel better and take control of your life, but not sure what kind of support or path you need? This option is great for those looking to see what it is like to work with Dr. Weinberg or need a fast solution to jumpstart transformational changes. Your Simple Pure Whole Discovery Session will last around 60 minutes. During this time, we will discuss where you are, where you want to be and how you can get there.
In your Breakthrough Discovery Session we will:
get clear about your health, lifestyle and career goals
explore your current stressors and factors leading to overwhelm in your life
Relax, recalibrate and get grounded in the present
Enhance your clarity, gain insights and better understand the situation.
Figure out what you truly want to accomplish for yourself.
Determine a personalized plan for moving forward.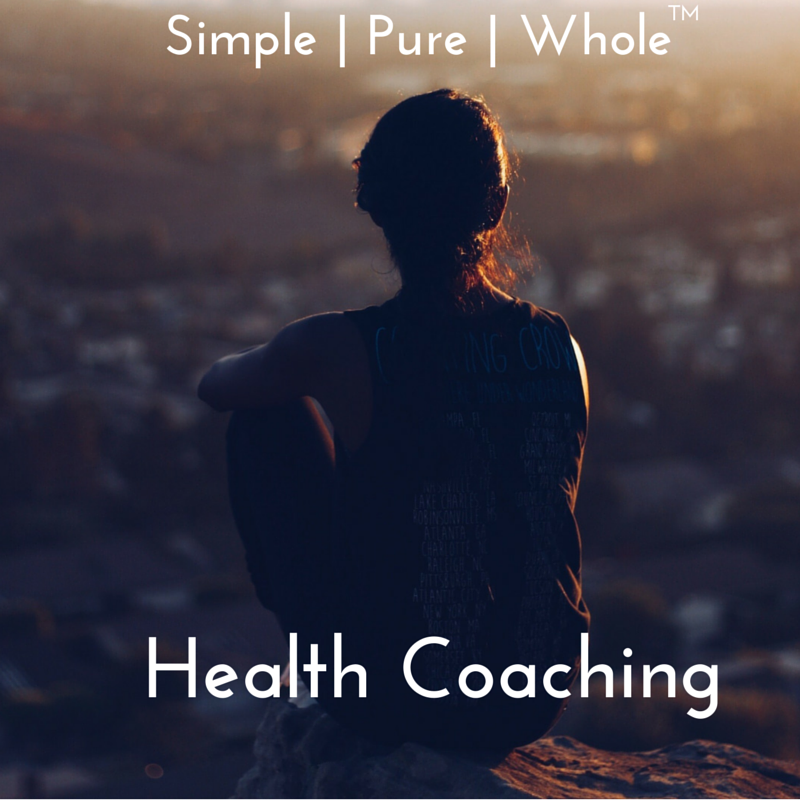 Comprehensive Health Coaching
Simple | Pure | Whole health coaching is a powerful way to support your goals and help you obtain optimal health! You will receive a framework of support, accountability, validation, structure, guidance, knowledge and resources to empower you to become an active participant in your health and wellness. You will gain enhanced self-care strategies, learn to live a natural non-toxic life and build a powerful toolkit of Simple Pure Whole wellness strategies.
Health coaching allows you to:
Establish and achieve ambitious goals.
Reconnect with your authentic spirit.
Gain enhanced mental clarity.
Improve physcial stamina.
Balance your weight and body.
Align with the life you envision.
Enhance joy, play, fun and happiness in life.
Discover a variety of food choices, cooking and eating strategies.
Build healthy habits that will carry you forward with grace and peace.
Minimize and cope with symptoms and dis-ease.
Calm the busyness, chaos and overwhlem of modern life.
Cultivate a relaxation, meditation, yoga and/or other mindfulness practice.
Manage your time in a balanced and effective way.
Learn about and access healing resources.
Uncover your true needs–emotionally, spiritually, physically, mentally.
Create a safe, non-toxic, nourishing home and work environment.
Prioritize your health and wellbeing!
and so much more!
Contact me at info@JenniferWeinbergMD.com to discuss how we can design an individualized program to meet your unique needs!
Dr. Weinberg works with you as a health coach, educator and consultant to help build your wellness toolkit and support you in obtaining and maintaining optimal health. In these virtual coaching programs, Jennifer Weinberg is acting as your health coach and not as a physician. A legally binding doctor/patient relationship is not established. The telewellness coaching sessions are for educational purposes only. Insights and education are intended to assist you in using lifestyle to support your health. She is not providing medical care, diagnosis, treatment or cure. Dr. Weinberg and her services are not a substitution for a one-on-one in person relationship with a primary care provider, licensed dietician, nutritionist, psychologist or other licensed or registered professional. They are not intended to replace a one-on-one relationship with a qualified health care professional. As such, working with Dr. Weinberg is not intended as a substitute for the advice provided by your physician or other health care provider, and it is not intended as medical advice, diagnosis, or treatment nor to diagnose, treat or cure any disease, condition or other physical or mental ailment. This can support and complement your other health care approaches. As such, Dr. Weinberg is happy to consult with and work in conjunction with your health care team.
With telecoaching/education, a legally binding doctor/patient relationship is not established. Thus, the telecoaching consultation is for educational purposes only. Medical insurance will not cover telecoaching services. There is no refund for telecoaching/education services. Assessments and recommendations are intended to assist you and your health care provider in using lifestyle and comprehensive means to support your health. Recommendations are not intended to serve as a medical diagnosis or treatment.
Please follow for more wellness resources: